What to Get Your Boyfriend For Christmas 2020 (Top 10 Gift Ideas)
It's not really that easy to search for the best and perfect gift for the men in your life. However, your brother and father would most likely love and accept anything you give them for the holidays, but when it comes to your boyfriend or someone you're dating, it may be a bit harder to shop. 
Don't stress too much because shopping your boyfriend the perfect gift will be as straightforward as picking gifts for men. Your special someone will still love anything you give him, so just try going with one of our top picks if you are having a hard time to choose. 
1. A Simple Genuine Leather Bracelet 
Does he love wearing jewellery? Then opt for a braided genuine leather bracelet that will surely last a very long time. Make sure it's not too flashy so he'll be able to wear them with any type of occasion. 
2. LEGO Star Wars Stormtrooper
Some men still love LEGO, especially if it's their favourite toy when they were little. Trust us, they will fall in love with you even more if you bring him back to his LEGO days. You may want to pick Stormtrooper helmet from Star Wars. Their kit includes 647 pieces, and if he loves building then he will definitely enjoy several hours to complete it. You can join him if you want to! 
3. Elegant Crew Neck Knit 
Christmas only comes once a year, why not give him a men's designer clothing? This Ma. Strum Crew Neck Knit is perfect for the holidays. It's 50% wool and 50% acrylic. Your boyfriend will surely need this for the winter holidays! 
4. Legends Flashback Retro Game Console  
Your man either grew up playing Sega Genesis or Nintendo. But it doesn't matter because he'll love the simplicity of these 50 classic video games, like Fighting Ice Hockey, Judge Dredd, and Heavy Barrel. This console is already pre-loaded with games, so all he needs to grab is a friend to play with, and that's you! 
5. UV Sanitizer for Smartphone and a Universal Charger 
Since we are still in this COVID-19 pandemic, you may want to show your concern and love for your man by giving him this UV sanitizer that will get rid of bacteria and germs on their smartphones, keys, and other most-used accessories. Plus, they don't have to use a disinfectant wipe which means helping save the planet! It works really easy, just place them inside, plug it in, and let it kill 99.99% of bacteria and germs. 
6. Beard Trimmer 
We're sure that your boyfriend has already earned a pair of stellar clippers after months of cuts and trims. This beard trimmer is perfect for complete shaves or fast clean-up, it's cordless and can last four hours between charges. 
7. Handmade Leather Bookmark
Although your bookworm boyfriend may not consider your reading recommendations, he'll appreciate this leather bookmark to keep the course of his progress. You can have it personalised on one side and put some quotes that will motivate him to flip a few more pages. 
8. Spalding UO Exclusive Globe Basketball 
Does he love basketball? Why not give him a new basketball? This ball will make him dribble around the world since it has a printed map on it. It's perfect for a stylish game or for a dedicated fan's bedroom display. 
9. Goodies Subscription Box 
He'll be grateful to you as he'll be getting a box full of goodies each month. No need to ask questions, he'll be surprised each month. Every subscription box comes with packed with all the things he needs for a clean and handsome look such as a leather watch, silk tie, wallet, and dress socks. 
10. 11-in-1 Credit Card Tool 
This slim tool can slide easily in his wallet. It's a multi-purpose tool that can be used a bottle opener, saw, ruler, wrench, screwdriver and more. It's very functional and it comes stored in an artificial leather sleeve to keep it neat and protected. 
11. Beard Catcher Bib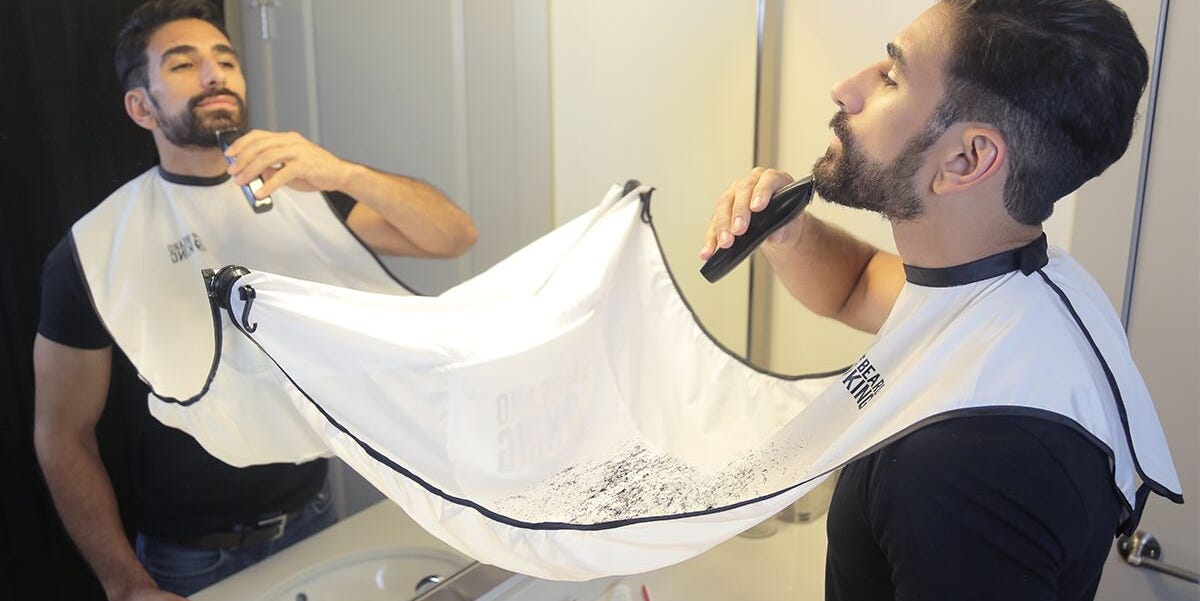 This Shark Tank-approved bib can keep your man's beard looking clean without having to create a mess of your bathroom sink. This is also the perfect gift for you and your husband, you know what we mean! No more hair on floor and sink. 
12. Watch Club Gift Card 
Most women can relate to each other how difficult it is to decide if their man is more of a Fossil or an Armani Exchange guy. Yes, we understand it. Once you sign him up, he can tell the Watch Gang what look he likes for his watch whether it's gold, leather, or has diamonded it. Doing this will allow him to pick the new favourite accessory that he actually likes. 
13. Tile Pro 
If your man is the forgetful type of person, this small device is perfect for him if he usually loses things. Whether it's his keys or wallet, this tile pro can help track down his important stuff on his smartphone when he always loses them.
14. Travel Laptop Backpack 
This carry-all bag is ideal for work and weekend travels. If your man normally travels for work, this is the one to give him. Choose the backpack that comes with a padded interior to protect his laptop and has extra storage space. 
15. Customised Socks 
And lastly, we cannot miss the socks this Christmas. You can have it personalised with his initials. It's the nicest gift to any and every occasion. You can give him a pack of five so he'll be covered for an entire workweek. 
Ivandrea Ollero is a content writer who researches and writes custom content about home improvements, travel, fashion, and beauty. She graduated from St. Scholastica's College, Manila, with a Bachelor's Degree in Broadcast Journalism in 2016. Ivandrea provides helpful tips and hacks on various topics for her readers.