Wedding DJ and MC Vs Wedding Entertainer
I recently attended a wedding celebration and was rather shocked when the DJ announced himself by climbing on his table and loudly pronouncing with arms outstretched, "The Bride and Groom thought they were just getting a DJ, but little did they know they're actually getting someone really special, they're getting MEEEEE!!!"  It reminded me of another wedding event not long before when the person most folks would consider the DJ took umbrage with the term and demanded he be referred to as a wedding entertainer, and it got me thinking about the differences between the two.
The wedding entertainment  seems to think that they are better than a wedding DJ and deserve more money for their services because of the extras they provide.  "A DJ just plays music and makes announcements," he told me, "I do so much more."  He then proceeded to pass out plastic party hats and glow sticks, yell into the microphone (unintelligibly), and stop the dancing every 10 minutes or so for an "activity" of some ridiculous nature.  The exasperated wedding guests just wanted to dance and have a good time, and I thought the poor groom looked like he wanted to crawl in a hole and hide.  He later told me he was really embarrassed and wanted a wedding reception, not a teen party.  The wedding entertainer was completely out of touch with the group as he proceeded with his agenda including contests and "dance instruction," meaning that although everyone there knew how to dance the electric slide, he still felt compelled to stop the music and show the guests how it goes.  This is when the now irritated couple asked him to knock it off and just play the song.  They're lucky they didn't hire the other guy, who went even further in demanding attention with costume changes and skits starring him.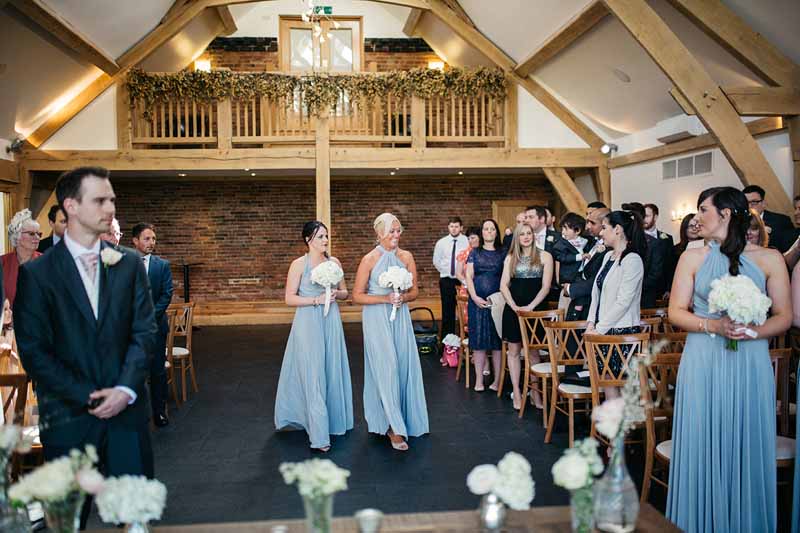 The couple should have hired a professional wedding DJ who was capable of directing an event without putting the spotlight on himself, and has the skill, knowledge and judgement to conduct an event with a level of class and sophistication, while still retaining a fun and pleasant atmosphere.  There are plenty of items associated with a modern wedding celebration such as cake cutting, bouquet toss, formal dances and the like.  The insistence that folks will be bored if they're not frequently accosted is a silly notion.  Many people like to relax and enjoy, and visit with friends and relatives who they may not have seen in a while.  They may not want to dance every second, and they may not want to be involved in a hairy legs contest at all.
A quality wedding DJ/MC also knows that making an announcement on it's own simply isn't enough.  Proper execution of a previously prepared schedule means cuing up a song, setting the microphone down and walking out from behind the DJ table to prepare the people involved.  Perhaps the photographer isn't ready, or the Father of the Bride is unaware that his dance with his daughter is coming up next.  He needs to be informed and ready to go when the announcement is made.
This applies to the entire evening, plus the obvious coordination required with event staff and vendors.  This type of DJ will go even further in his service to the couple by helping to prepare the agenda with them, providing equipment such as wireless microphones, dance lighting, and ceremony sound system free of additional charge.  He is willing to help a ceremony musician or reader with their needs, and generally be a source of support for the married couple on their big day, not an extra headache.
This is not to say that a wedding entertainer does not have his place.  If you are looking for a crazy and chaotic reception starring Elvis in a jumpsuit, that may be your cup of tea.  Be prepared to overspend and accommodate their ego and desire for attention at your event.
If however you prefer to spend a reasonable amount of money for a wedding professional who will listen to you and your needs, and believes that a wedding is all about the Bride and Groom, perhaps you should hire a wedding DJ/MC who is comfortable with the term and his place, and is honored to be a part of your wedding, knowing that it is your special day and not his.